Having a baby is unquestionably an amazing, life-changing experience. And those precious moments shared with your newborn will fly by in the blink of an eye. This is why a professional newborn photo shoot is a great way to capture beautiful memories that can be cherished for a lifetime and last for posterity.
Questions You Need to Ask When Hiring A Newborn Photographer
1. HOW LONG HAVE YOU BEEN PHOTOGRAPHING NEWBORNS?
We have been working with newborn babies for almost 9 years now. Babies are certainly a different kind of portrait work; they require finesse, gentle hands, and a lot of patience. 
2.
DOES THE PHOTOGRAPHER HAVE THE NECESSARY TRAINING? 
An essential aspect of your photo shoot is ensuring that the newborn photographer knows how delicate babies are and the various poses for maximum comfort. 
 It's vital to your baby's safety that the photographer of your choice is trained and highly-experienced in this specialized field of creative newborn photography.
Our studio has everything you need for Moms & babies ! It is completely air-conditioned for summers and also has heater for the winter season for newborns. We also have a dedicated air conditioned feeding room for Mom where she can even change her outfits. The studio is spic and span and is cleaned before & after every newborn session.
4. WHAT SAFETY MEASURES DO YOU HAVE IN PLACE?
 It might seem obvious, but it is absolutely something you want to make sure is absolutely taken care of. Babies have startle reflexes so it is important that there be someone other than the photographer within arm's reach at all times to prevent any accidents. It is also important to know that all of the backdrops and accessories get cleaned after each use and that props get inspected for sharp edges or structural defects before each session.
We do inspection of props , baby clothes, etc. before each use and we do proper cleaning of props and accessories after each use as well. Rest Assured that your baby is in the safest possible hands.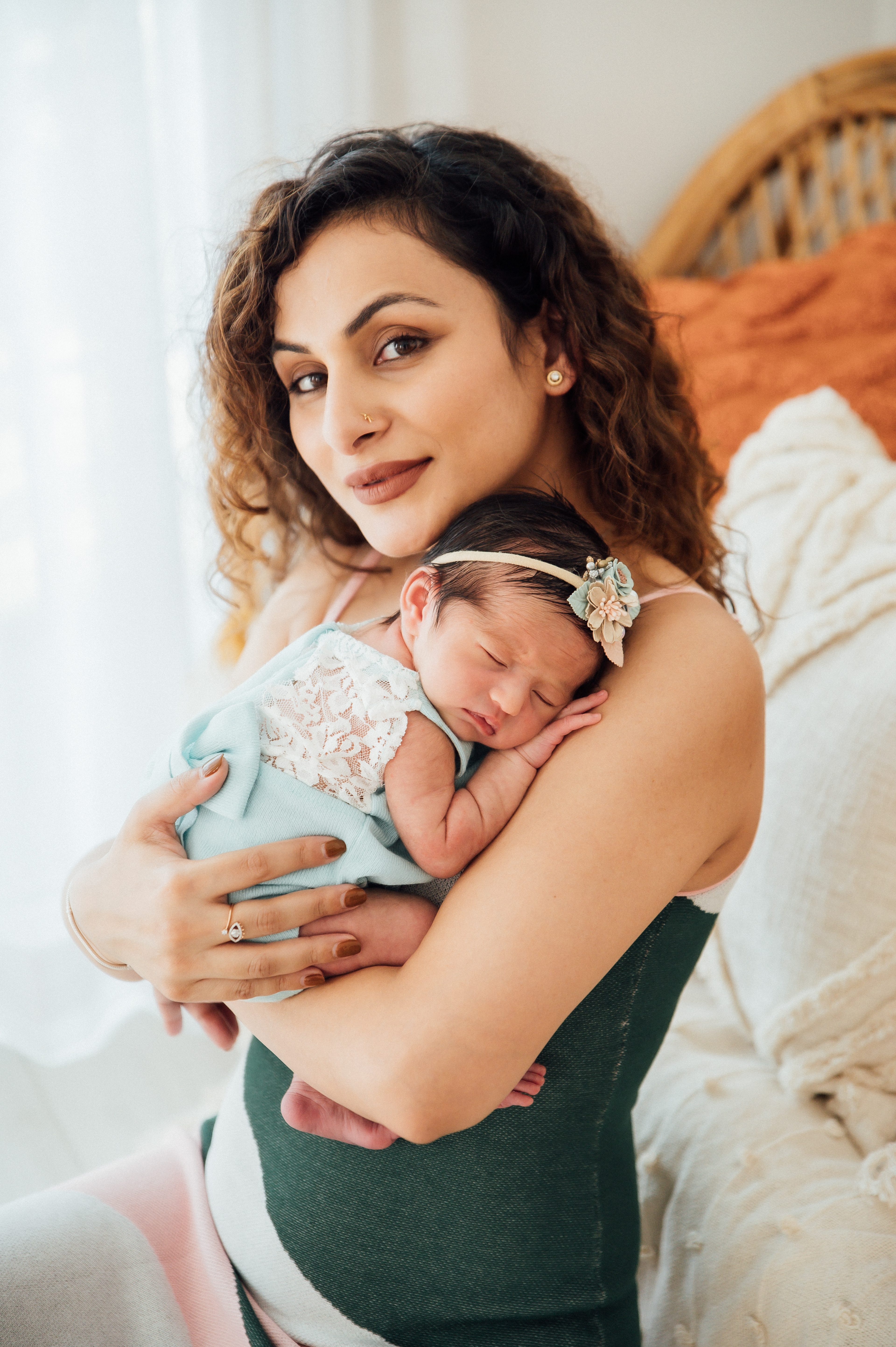 5. WHAT KIND OF PROPS DO YOU USE? DO I NEED TO PURCHASE ANY PROPS/CLOTHES ?
Our studio has everything you need for the session, including props like buckets and crates, accessories like bonnets and tiebacks, backdrops, and outfits for newborn baby. There is no need to go out and buy any outfits or props for the session.
6. WHAT IF MY BABY PEES OR POOPS ON THE PROPS? WHAT IF THEY NEED TO EAT?
 Any pro newborn photographer knows that working with babies comes messes; usually from all three directions! We make sure everything is cleaned and sanitized afterwards and with all of that output, input is needed so extra feeding time is factored into the session length.
4. WHAT IS THE STYLE OF THE SHOOT?
All photographers have a definitive style that is unique to their work. Usually, newborn photos are classified into two categories – lifestyle or posed images. 
The former pertains to capturing natural, more candid moments at your home, or in a lifestyle setup at our studio. The latter usually involves bringing your baby for a studio photo shoot where newborn photo shoot lighting and newborn photography props deliver those perfect, artsy shots. Choose an option that you will be most comfortable with.